The graphs below provide a snapshot view of market behavior in Jackson County. These graphs show information for homes only. Other property types such as land, multi-family, and commercial property are excluded.
The graph below is a measure of inventory levels since January 2016. Blue line (InvCount) shows total inventory in Jackson County. The red line shows inventory in Jackson Township only. The difference between Blue and Red shows the inventory everywhere that isn't in Jackson Twp. For example, the info for the last entry, April 7, 2018 shows a Blue value of 100 and a Red value of 56. Total county minus Jackson Township shows total everywhere that is not Jackson Township. This would mean 100-56 = 44 listings not in Jackson Township, or everywhere that is NOT Seymour. This gives a perspective of the spread of inventory across the county.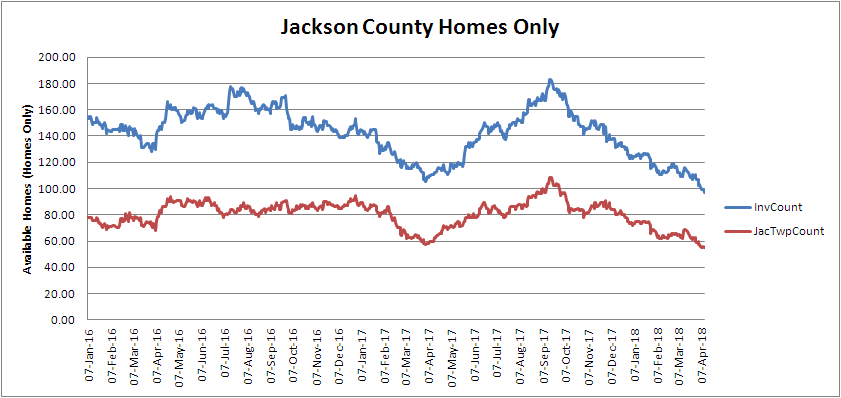 The graph below shows median price information. It shows convincing evidence that generally speaking home prices of available properties in Jackson Township are lower than those prices in the rest of the county. Furthermore, it indicates that sales prices in Jackson Township were lower than elsewhere in the county up until the spring of 2018. At that point, prices seem to have converged and have run very close to the same since that date.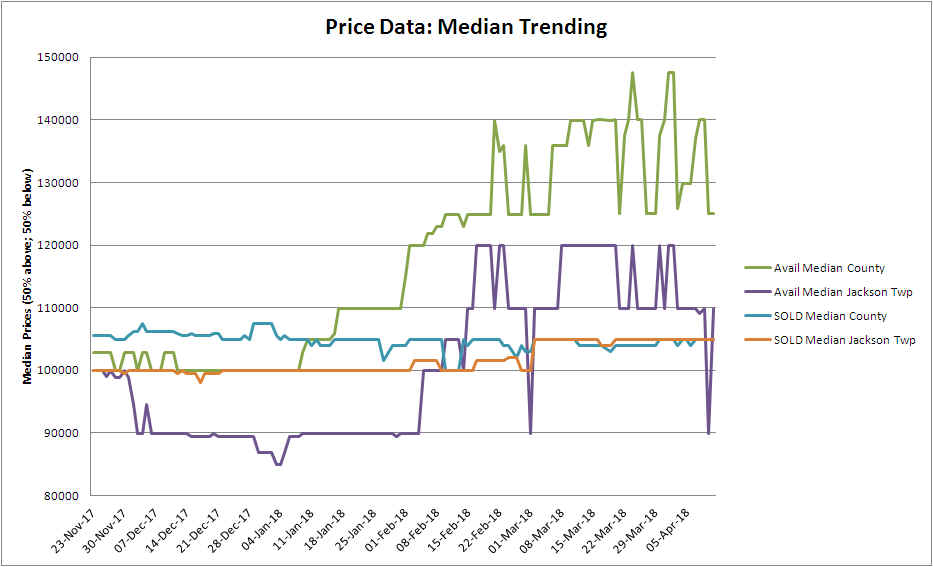 I think this is interesting to know. This information is not warranted nor guaranteed and should not be used for any purpose whatsoever unless the user obtains independent verification of the data. Sales data includes Sheriff Sale information.
---
I, Steve Freeman, am a licensed and very independent real estate broker in Indiana. I only work with rational human beings. I've been serving Jackson County Indiana exclusively since 1995. In 2000 I earned the prestigious Jackson County REALTOR of the Year Award. I am a member of the National Association of REALTORS (NAR); the Indiana Association of REALTORS (IAR); the Jackson County Board of REALTORS Multiple Listing Service (MLS); Jackson County Landlord Association; First United Methodist Church; Seymour Evening Lions Club, and the National Rifle Association. I am also honorably discharged from the United States Navy after serving from 1980-1985.
Steve Freeman, Owner
1790 N Co Rd 180 E
Brownstown, IN 47220
Hm/Ofc: 812-358-8635
Cell: 812-528-0976
CountyRealty.Com is wholly owned by Steve Freeman ©2000-INFINITY; All Rights Reserved. CountyRealty is committed to the letter and spirit of the US policy for the achievement of equal housing opportunity throughout the nation. CountyRealty encourages and supports affirmative advertising and marketing programs in which there are no barriers to obtaining housing because of race, color, religion, sex, handicap, familial status or national origin.